Well it's been since our escape to Cabo for a week in the fall of 2019 that we traveled, but finally we took to the skies this month for the first times in over two years.  Our destination of choice chic St. Barth's.  You've heard about this island I'm sure and some of my readers have been there I'm sure.  St. Barth's is known as an elite island, escapism for the rich, the yacht millioniares and billioniares, celebrities and the well off of society.  But it's not like this island bans the vacationer or middle class, if you are willing to bite the budget bullet and time it takes to get here, you are welcome on the island.  Just be aware the island does cater to the higher end and pricing on this island reflects that in most aspects, they want the well off and money spenders on this island.  The locals are very friendly & open to everyone, so it's not a snobbish island at all.  Cost is not much talked about on the island, and if you are here, then you can afford to be here at least for a little bit, LOL.
To arrive on St. Barts, there are several options but none involve a jet landing on this island in anyway nor is it reachable direct from the US mainland.  The two common ways are 1. flying to St. Martin, from which you can hop on a commuter turboprop scheduled flight or can book a chartered private turboprop to fly you over to St. Barts.  It's a 15min flight.  or also you could opt to take a taxi to the ferry port and take a 1hr ferry sometimes longer depending on water conditions to Gustavia the islands main town.  Option 2. is to fly to San Juan, Puertro Rico, and then fly private or scheduled on Tradewinds turboprop to St. Barths.  We flew via St. Martin, but actually the flights from St. Maarten to St. Barts were completely sold out so we had to take a taxi over to the French side of the island and fly out of Grand Case instead.  Next time we may opt for San Juan, as you can avoid customs in St. Maarten by flying from San Juan to St. Barts.
St. Martin did not require a negative test to arrive on the island, just that we were vaccinated.  In addition St. Martin required an online EHAS form submission, which we were approved upon submission within just a few hours.  Checking in at Delta in Pittsburgh, Delta did verify we had this approval, along with our vax cards.  We flew via Atlanta, and in St. Martin we again had to show our EHAS approval to enter the country and our vax cards.  The process was simple but the lines were long.  To the point that when we exited the airport in a taxi to Grand Case we had 1hr before the flight (the last flight of the day) to St. Barts.  The taxi driver was very concered saying traffic over to French side would be bad at this time of day and we may not make it.  He kept in good spirits and told us he will make it to the airport & not to worry.
He was right we did make it but with only minutes before boarding, but luckily Grand Case is a small regional airport and we were checked in and they let the gate know we were there.  So we made the flight to St. Barts as planned. 
Arriving in St. Barts, you are quickly through the small airport.  Then we are wisked away by our private villa concierge driver, who takes us to our villa up on Mont Jean in Ponte Milou, Our mostly open air villa overlooked an incredible ocean view on the north side of the island with vistas in every direction.  It was after sundown, so it was dark out and we were tired and with the help of the villa service rep we ordered delivery for our first night.
We woke up the next morning and spent the day enjoying the villa, and it's private plunge pool.
I mean when your spending this much per night on a villa, you better enjoy it & make the most of it, right, otherwise what's the point of renting a luxury villa?  [I will review the villa in detail in another post this week]  We did not leave the villa until the evening, our first night out with reservations at Bonito in Gustavia.  We had a private taxi driver pre set for our pickup, and this guy ended up being our go to guy for nearly the entire trip he was there for us both to pickup & return us later in the evening.  He asked us what time we would finish dining and to just text or call him 15-20 mins before we are ready & he would be there for us.  This held true just about every day.  He would not require payment until the end of each night.  It was at this point we discovered a taxi fare on this island in evening hours is going to cost us around 30-40 euro each way.  It depends on where you are going and from where but this was the average for a 20min trip from Mont Jean to Gustavia. 
Now to dinner on our first full day in St. Barts, we opted for reservations at Bonito, a very hip dining scene with live DJ and amazing ambience, beautiful people and beautiful view over Gustavia harbor and absolute delish' food and wonderful cocktails,  this also gave us our first hint of what true gourmet dining every day on this island was going to cost us.  We ran up a nearly 400,00 euro bill for 2, several starters, mains, cocktails, still and sparkiling waters and desserts.  That's more than I ever spent on one meal in my entire life anywhere in the world, and I've dined at some incredible places in Europe and Asia.  This ended up being our most costly meal all week, not that we curtailed our dining expenses at all but we never came to a bill this high thoughout the rest of our vacation in St. Barts.  When in St. Barts, I did what everyone does you don't look shellshocked at the bill, you whip out your credit card like it's just another meal, toss on a nice tip and off you go!  This ended up being my wifes favorite meal on the island all week, to me it was up there as well, but not the best of the best for me personally.
The next day (Saturday) we had reservations for the late sitting at famed party central Nikki Beach.  We were not sure this was going to be our scene, with the live DJ and loud music, dancing girls on tables in bikinis (not that I'm complaining about that lol).  After getting situated at our beachfront table for two we actually enjoyed it more than expected.  I will say the food at Nikki Beach was just ok, it was presented very nicely, but it didn't blow us away.  Nikki Beach is "the" place to see and be seen in St. Barts on weekends.  The first seating is midday but you have to leave your table for the 2nd seating at 3:30pm, so we were really happy with the 2nd seating we spent the rest of the day at Nikki Beach swaying our heads to the beats, enjoying some cocktails and watching the well off be celebrated when they would purchase top price bottles/buckets of champagne, like they were kings of Nikki Beach for a day.  It was all in good fun, and no one really gets carried away here.  Everyone is here just to have fun and enjoy the day.  Nikki Beach is also known as a celeb hotspot on the island, along with it's location on Saint Jean Beach, and the very trendy Eden Rock Hotel just down the beach, and I could've swore I saw one or two celebs walking down the beach...but who knows....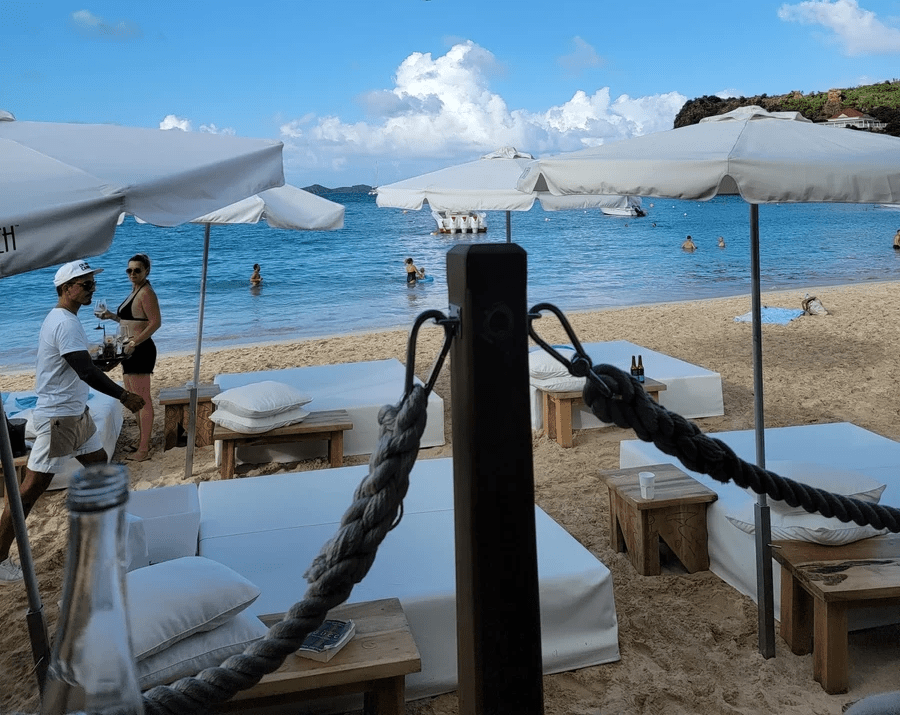 It was here at Nikki Beach we ended up being very friendly with our young party vibe waitress & throughout the rest of our trip, we kept running into her, she saw us at Bagatelle when she arrived with her friends for dinner, and again we ran into her on a dinner date at Tamarin.  She remembered us, and we her.  She even chilled with us for a few minutes at Tamarin before going back to her date.  Later our waitress at Tamarin told us, " wow, she is a rockstar on this island & if you are cool with her, you are in crowd cool".  lol, ok, awesome...
We stayed until just before Nikki Beach closes around 7pm, we walked the beach for the experience of being there, and then hit the shops for some swimwear & dresses.  Again prices on the island for shopping you need to expect them.  We dropped around 250,00 euro for a pair of trunks and shorts at local designer boutique, and my wife bough a few dresses each cost 100-200 euro.   Reservations at Nikki Beach are free, but we dropped about mid 200s euro on lunch & drinks.  We decided to cancel our dinner reservations at Zion being we had the 2nd sitting at Nikki, and returned to our villa for the last night we had our villa.
Sunday saw us relocate.  We checked out of our private villa, and transferred over to the newly opened & rebranded Rosewood Le Guanahani for the rest of our stay on the island.  Before we did that though we headed down into Gustavia, as we heard about a monthly street market the first Sunday of every month, and it just so happened we would be there for this, so we wanted to see Gustavia anyways.  It ended up the market day was moved closer to Xmas this month, and so we just walked around Gustavia, browsed a few shops and enjoyed a leisurely walk along the waterfront harbor & saw several impressive yachts.  We also heard about Sin Garden as being the best French pattessiere on the island, and it was on our target list to hit it, and so we did & we loved it.  Rosewood met us around mid day in Gustavia with a driver and took us out to the resort located on the eastern edge of the Grand Cul du Sac.  [I'll review Rosewood in a seperate post this week]. Dinner that night had us dine with management of the resort at the resort's Beach House, who really went all out for us, lobster, mahi mahi, octopus, oysters, desserts, cocktails, wine parings and more.
Monday saw us just really enjoy everything the Rosewood had to offer.  We booked a couples deep tissue CBD oil massages.  We used the gym, the beach, took a tour of the resort itself and just relaxed.  That evening our trusty taxi driver came out to the Rosewood and took us back into Gustavia for our dinner reservations at Bagatelle.  Bagatelle also had a really nice indoor ambience about it, but the real winner here is the new outdoor terrace patio right on the water's edge on the harbor, a wonderful location and experience.  Food was very good here, we each did cocktails, starters, mains and we shared a dessert.  Cost was as expected now that we hit several premium places on the island.  We sat next to a nice older couple from Jersey who knew Pittsburgh well, and made conversation with them easily.  Then when they left a guy sat down next to us, ended up he was a local famous architect from Germany, who lived in Sweden, before migrating to St. Barts and calls the island home now,  Such nice people on this island!
Tuesday, we headed back down into Gustavia, as we hired a private chartered catarman for the day through sunset crewed by 2.  We sailed out midday and headed off to Colombier Beach, a beachscape on the island with crystal clear water, that is only reachable by boat or by a 30 minute hike down from the top of a hillside.  Colombier was stunning.  Our captain told us stories of how he is hired out by Victoria Secret to take their models to Colombier for photo shoots.  I could see why, beautiful beach and amazing see through water!  There was a yacht offshore and the people from the yacht setup a massive canopy and were having a BBQ on the beach, they had jet skis, boats, kids floats, loungers and more, reminded me of something I would perhaps see on Succession or Billions! LOL.  The captain then took us out to Fourchue Isle, a rocky island that is a nature reserve and had incredible deep water snorkeling off it's rock coral reef, where we spent about a hour before heading back to St. Barts for sunset.  The captain then wanted to take us to Shell Beach for a sunset swim, but we knew we had reservations for Shellona which is on Shell Beach for lunch tomorrow, so opted to just watch the sunset from the cat, before heading back into Gustavia harbor.  Lunch onboard was prepared for us by L'Isola another top tier dining venue on the island, and man did we love our lunch.
This brings us to Wednesday, our last full day on the island, and we went all out.  This day saw us hit two of the ultimate dining venues on the island, in Shellona for lunch, and Tamarin for dinner.  Both blew us away.  at Shellona our waiter convinced us to order the fresh catch lobster of the day special.  We had to order by the 100s or 1000s of grams...(I had no idea)... should we order one for each of us or one to share?  We ended up deciding to order one to share, upon which he brought right to our table a real live lobster, didn't tell us the grams and said "this one here is good size for two to share".  We looked at each other then at the lobster and said ok let's do it.  My wife mentioned everyone around us was watching us order that lobster.  In addition we had the signature salad, starters and cocktails.  Ended up the lobster was around 2.5lbs, it was an 1100g lobster order, and they started at 600g.   There was this trio of young women sitting right behind us and both my wife and myself said that we knew them, we couldn't name them at that time, but we knew they were some very famous people, and they really watched us when they brought that live lobster to us.  For a moment I was a bit worried how much did we just spend on that lobster, but then shrugged it off. lol.  Offshore was a stunning luxury megayacht, I saw it's name and was able to Google it.  This yacht was a 65million euro ship, and chartered at 3/4th of a million euro per week.  I quickly put two and two together and realized most likely these young women we couldn't name came on that yacht.  They had a secluded table partioned off on both sides at back of Shellona so no one could really bother them.  Some guys sitting at a table next to us also were talking about the yacht, and did the google thing too, and said to me, "someone very substantial is right here at Shellona right now."  I didn't mention the young women sitting behind us but said "yep indeed".  Shellona was our best lunch on the island, and food wise it absoutely blew away Nikki Beach by miles.  There is no party vibe at Shellona, people come here for the food, and I'm so glad we did too.
That evening saw us wrap up our luxury week in St. Barts with dinner reservations at Tamarin.  While it rained that evening, so sitting in the outdoor tropical gardens of Tamarin was no good, Tamarin was fantastic regardless, the food, the setting, everything about Tamarin was perfect.  I'm of the opnion that Tamarin was my favorite meal, but I'm torn between it and lunch at Shellona.  Regardless both incredible meals, and both on our last day, we truly saved the best for last unknowingly!
Before dinner that night while still at Rosewood getting ready to go out, our private doctor came to our room, and gave us rapid antigen testing to clear us for returning to US tomorrow.  He was in our room for 15mins, and gave us our negative clearences in paper format and was on his way. No stress, so easy, and now good to go to come back home.  In addition we needed to resubmit the St. Martin EHAS online form for return approval, and again these came back approved very quickly.
Thursday, goodbye St. Barts we will be back!  St. Barts airport authorities checked our EHAS approvals and vax cards to fly back to St. Martin, super easy and quick at check in.  Back in St. Martin things were as they were on the arrival, really horrible long lines for the EHAS verification, customs, and security.  Put it this way we arrived in St. Martin around 1:45pm, leaving on Delta from St. Martin at 4:20pm and we literally got to the gate with 20mins to spare before boarding ended.  Delta did check our negative rapid antigen results in St. Martin.
I'm not one to do dining reviews, but I almost feel like I should for St. Barts as a big part of the islands prestige is about the incredible dining scene.  In fact we ran into the guys from Shellona at the airport (We saw them at Tamarin as well that night), and they were raving about Kinugawa a Japanese fusion restaurant on the island in Gustavia, we actually cancelled Kinugawa from our dinner nights!  There were at least a handful of dining venues that interested us that we simply did not get to this trip.   I've been to nearly every island in the Caribbean and nothing compares to the international dining and shopping scene on St. Barts.  It is truly a paradise of pristine public beaches, small luxury 5* boutique hotels and the chic villa lifestyle.  
I fell in love with this island, I love the fact that they are not interested in mass tourism, they want to remain small, they want to remain elite.  Hotels are not big, there are no high rise hotels, there are no all inclusive resorts, their are no commerical big brands resorts, well except now for Rosewood, but honestly this Rosewood is 60 some rooms and very spread out, and all ground level accommodations, so it fits perfectly in the surroundings it has and its not imposing itself on the island as a big luxury hotel.  I love the fact that you can only get here by small plane, private plane or ferry.  This adds to the elitism of the island, they don't want a lot of people coming to this island, they want just enough people coming to this island.  I remember a day we were in the taxi with our driver and he was so busy that day because Crystal Cruises was off shore and shuttling cruisers to the island.  He was so hyper, "we don't have enough taxis on this island for all these people, several thousand people more are here now than normal it makes the island too busy too crowded, it's good for business yes, but I do not like it, why must cruise ships come here like this, we are busy enough as is, we don't need cruisers."
I mean Crystal is a top tier high end cruise line, people coming to St. Barts off a Crystal ship for the day are high end spenders & fit the St. Barts profile no doubt, but they don't want the big cruisers here and most ships are not premitted here, they have to call on St. Martin instead.  He continued "you come here you stay on your yacht, you in villa on island, you stay at luxury little resort ok, that is who we want coming on this island.  We are not big enough island for cruise ships like this."
We cannot wait to return to St. Barts, it may take us two years to make that happen but it's now our place in the Caribbean.  I honestly feel there is no need for us to go anywhere else in the Caribbean, St. Barts takes the cake, it beats them all, but if you want it, you will pay for it.  Talking to the hotel manager once, he said average entry level room per night year round is around 1,000 euro for a lot of the luxury hotels on the island including the Rosewood itself.  This is also about the low range average per night cost for a small villa of two bedrooms, and they go way up from there.
I can see the appeal of villa renting in St. Barts now, even more than before.  You can keep expenses down and stay on the island longer by renting a villa and buying groceries.  You can hire a personal chef for a night or two here and there if desired, hit a few dining spots, but dine at the villa more so.  Upon asking my wife her thoughts on returning and if she wanted us to rent a villa or stay at a small resort, she really liked the idea of both options just like we did this trip, we rented a villa, and stayed at the Rosewood.
There are some incredible boutique beachfront luxury hotels on St. Barts, in addition to the Rosewood, such as the Cheval Blanc, Eden Rock, Le Barthelemy, Le Toiny, Le Sereno, Hotel Christopher,, and the Hotel Manapany.  I'm familiar with all these luxury hotels, their locations, differences, style and more.  In addition I have connections on the island to just about every single thing you can imagine, and can customize a chic dream come true vacation to St. Barts for you anytime, including numerous contacts for private luxury villas.
I will review in detail the Rosewood, my villa stay, and dining experiences in upcoming posts this week.  
Thank you for reading & your interest!
"St. Bart's, Mr. & Mrs. TravelAgent are yours & we will be back."
(all images above including header taken by & ©Derek Schemonitz/Mr.TravelAgent.Net)